Venetian Chain - Customizable
The unmatched brilliance of moissanite
It may be surprising, but moissanite excels above all other gemstones when it comes to its stunning brilliance - a fact the jewelry world discreetly keeps to itself. Not only is moissanite significantly more affordable than diamond, but it is considered by many to be exceptionally more beautiful. This is due to moissanite's unique ability to double refract light, resulting in double reflection from all light sources. This leads to an unparalleled refractive index, a characteristic that no other gemstone in the world can match. But the true aesthetic wonder of moissanite only becomes apparent when one beholds it for oneself.
Ethically made, not mined.
Moissanite is extremely rare by nature, but thanks to modern technology, we can now replicate this natural process in controlled laboratory conditions. This allows us to manufacture superior moissanite stones, identical to the rare specimens found in nature, but with one essential difference: every purchase is 100% ethical and does not contribute to conflict and violence. In fact, with every purchase at My Moissanite, you indirectly support the victims of the diamond trade in conflict zones. We are proud to donate 5% of our profits to war victims in Africa, making your purchase a positive impact on the world.
Sustainability without limits
It is completely understandable that you are concerned about the durability of your gemstone. After all, no one wants their new jewelry to scratch or break quickly. Fortunately, moissanite comes second to diamond as the hardest substance in the world, with a hardness ranging between 9.25 and 9.5 on the Mohs scale. With this, moissanite surpasses other gemstones such as sapphire, ruby and topaz in terms of strength and durability. This guarantees that the outstanding beauty of moissanite can endure generations, as a timeless treasure.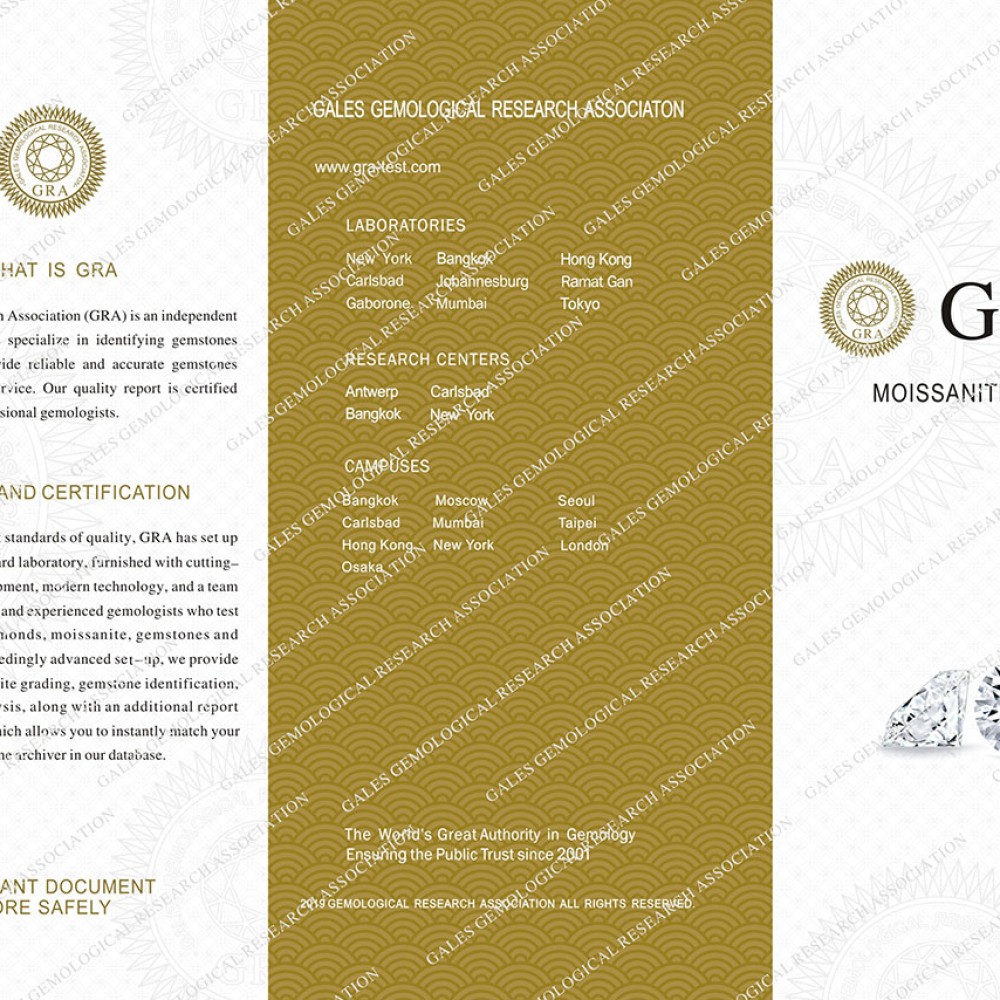 GRA Certified
With us, every moissanite sold is accredited by GRA, the leading global authority for moissanite certification. What is unique about our moissanite stones is that they each carry an engraved certification number on their belt, a number that corresponds exactly to the certificate provided. This contributes to the verifiability of the quality of your new gemstone, assures that your jewelry retains its optimal value and provides assurance that you do indeed own an authentic moissanite gemstone.
Quality guaranteed
In addition to our unconditional passion for moissanite, your satisfaction comes first with us. That's why we offer you a generous 30-day period in which you can return your order free of charge, regardless of the reason. Plus, you'll enjoy a lifetime warranty on your purchase, so you can enjoy your new moissanite jewelry with confidence. We are always ready to answer all your questions and assist you with maintenance and other aspects of your beautiful moissanite jewelry. Your satisfaction is our top priority and we are here for you every step of the way.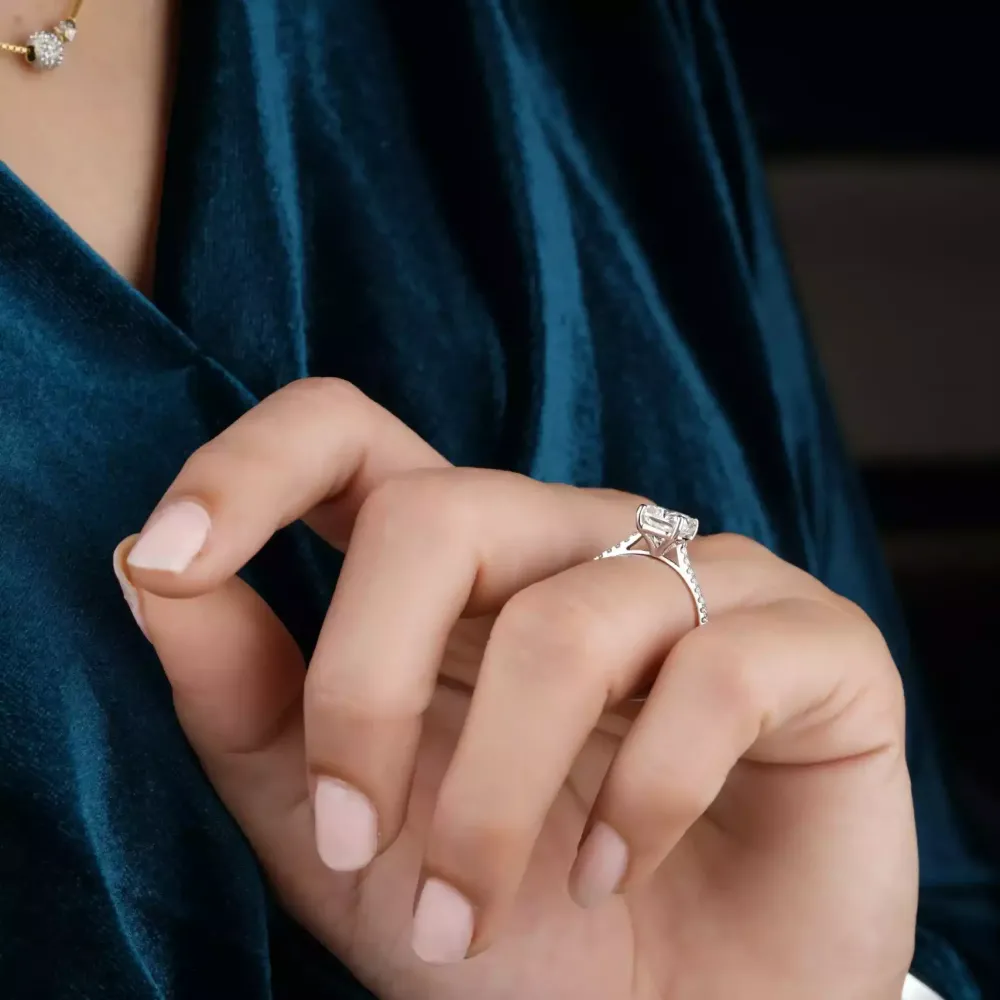 Outstanding customer service
Our dedicated team is always available to answer all your questions, whether it's about your purchase, maintenance or other aspects of your new moissanite jewelry. We strongly believe in the power of personal attention, which is why we treat every customer as our only customer. We are here to inspire and guide you in the exciting world of moissanite, so that your jewelry becomes exactly as you envision it. Your satisfaction is our ultimate goal, and we strive to create an experience that gives you long-term pleasure and confidence.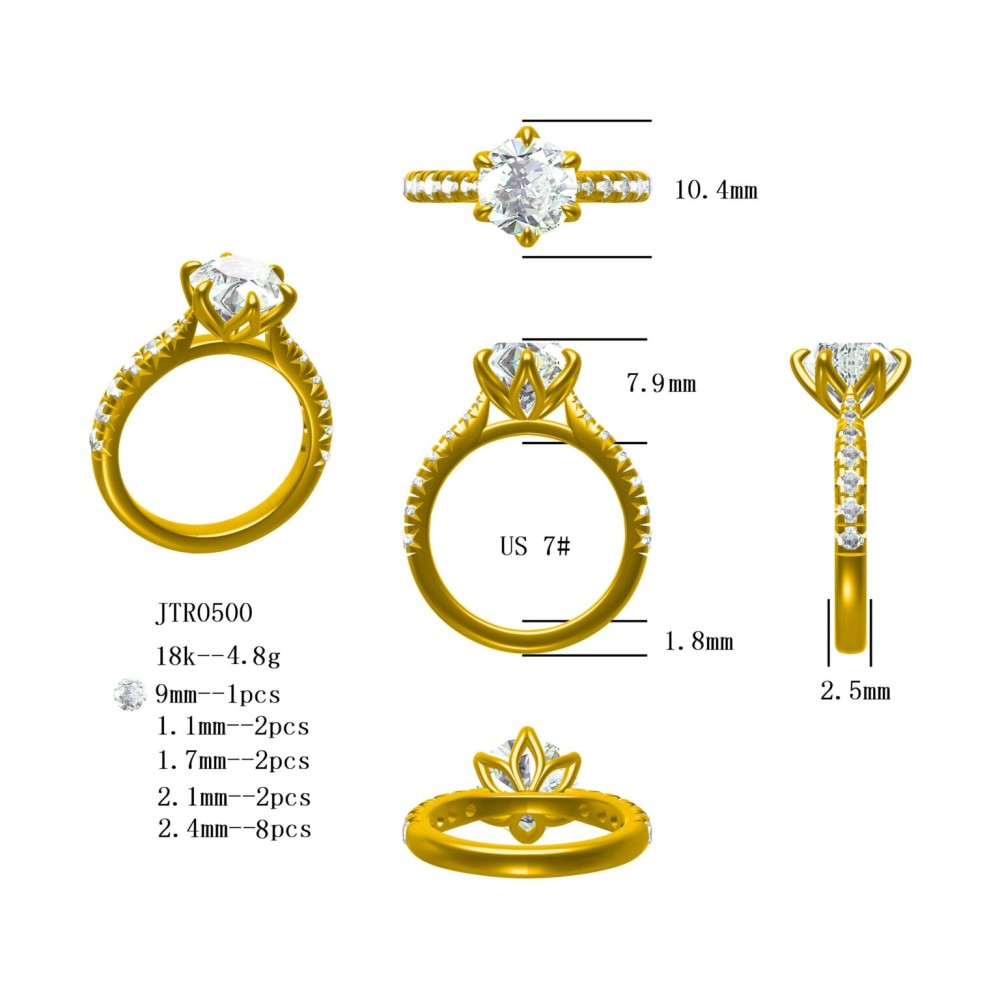 Customized jewelry
We know that sometimes you're searching for something that's uniquely you. That's why we offer the opportunity to create custom-made pieces that capture your individual taste and style. Whether it's a ring, pendant, bracelet, or necklace, we work closely with you to bring your envisioned design to life. With just a small down payment, we initiate our advanced 3D design process, offering you a virtual glimpse into your future piece. Transparency is fundamental to us, so we provide a clear and fair price range that we stick to, ensuring you won't encounter any financial surprises. At My Moissanite, we make it not just possible, but effortless to own a piece of jewelry that is genuinely one-of-a-kind.
 
Curious about the possibilities? Request a quote, completely for free!